Bijoy Jain. Studio Mumbai Architects
Nangaon, Alibagh. Bombay, India. 2007
View of the two boxes from the access to the water and the small central pond
This is a double holiday home that is posed with a simplicity of construction and formal resources very pronounced. Palmyra House, Designed by Indian architect Bijoy Jain, is presented as a constructed response to extremely hot and sunny climate of the coast of India, in Nandgaon near Mumbai.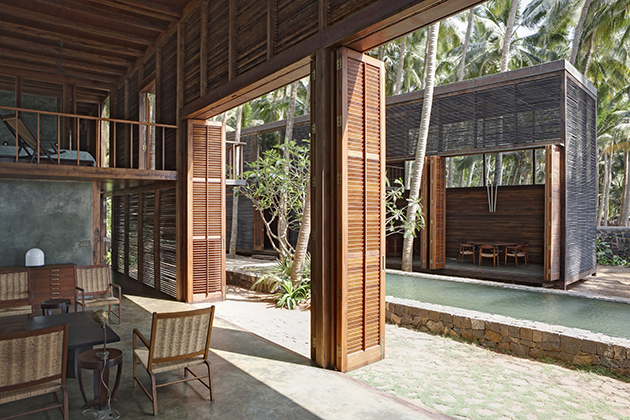 The composition of the project is of great simplicity, elongated two boxes two floors placed kitchen and living areas downstairs and bedrooms and bathrooms upstairs connected by a staircase.
The proposal is of extreme sustainability is based on the radical use of materials and local artisans. For this, the designer has tried to be constructive details and refined been agreed between the carpenters and the architect. This quest for knowledge integration between tradition and has produced a highly innovative proposal of the ethnography of place, reaching a high efficiency solutions constructive. All construction summarize peculiarities which are based on their own culture and are reproducible in other situations, even to that water consumption is based on the use of nearby wells.
Structure, partitions and carpentry of wood building are extracted from the vicinity, while the basement and the ground floor is basalt. For interior finishes and plasters itself used the beach washed sand. The search for the shade on a territory so intense sunlight makes even the same building acquires dark tints, derived from natural hues of these local woods employed and contributing to the sense of general darkening. Continuous light coating designed horizontal Venetian blinds allow cross ventilation to cool down the interior spaces on warm nights on the beach.
Adapting to the site is proposed with great respect to vegetation existing coconut. The building is inserted into a gap between the palm and beach with minimal incorporation of pavements and outdoor facilities. The position of the two wings perpendicular to the shoreline with the small central pond allows a passive strategy to improve the microclimate.
These two chocolate boxes inhabited stark show in its formal restraint and expressive cultural adaptation and the great wisdom of the author. This project was the recognition of the Aga Khan Award 2010.
More information:
Palmyra House by Bijoy Jain. Aki's blog here 09/08/2013
Palmyra House. Aga Khan Awards for Architecture 2010
Plans:

Design conception author to side elevation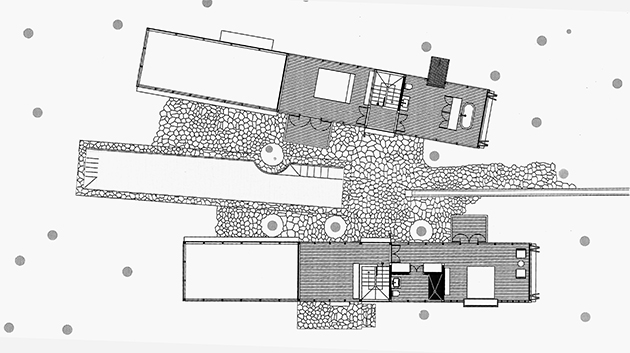 Upper floor Conjnto


Cross section marked on the bottom of the palm representation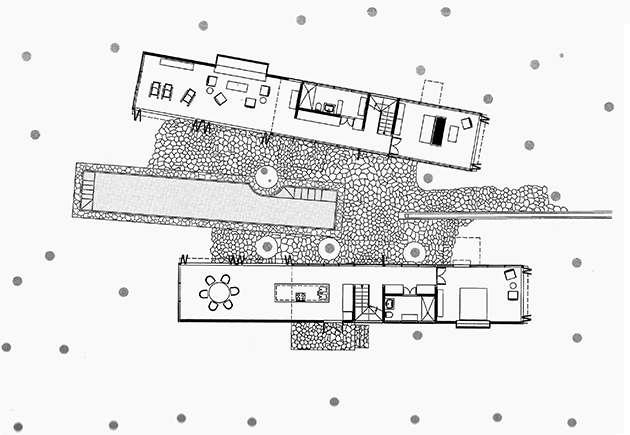 Ground Floor of the two boxes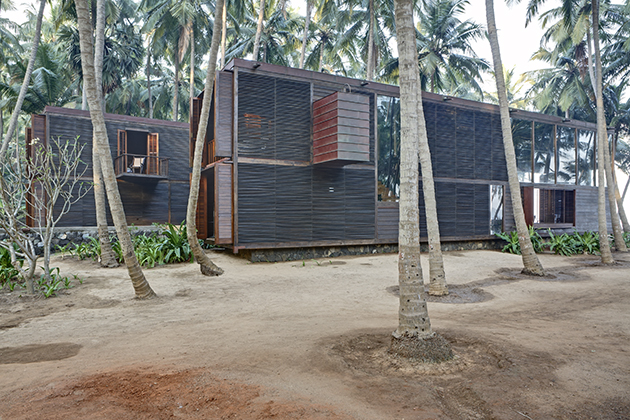 Lateral view of the assembly in which it seemed the balconies and box dedicated to space upstairs shower.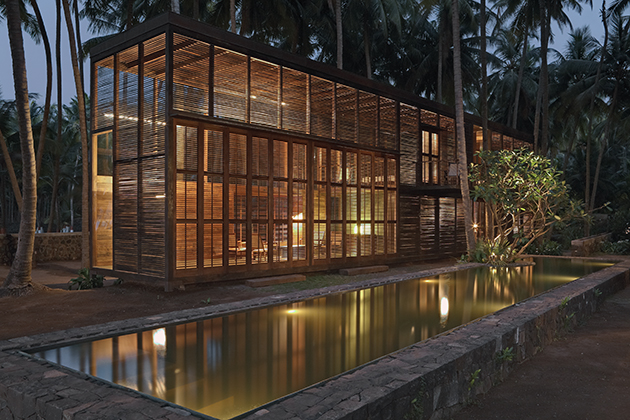 One of the halls illuminated at dusk in which it seemed the feeling of transparency that allows the coating of thin slats that defines the outer.
Location: