Raili y Reima Pietilä
Pine Niemi, Mehlati. Helsinki, Finland. 1993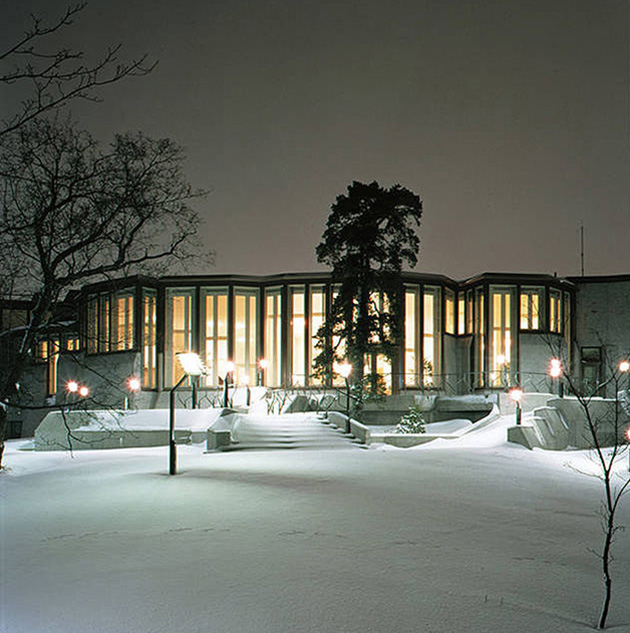 Central section of the large glass facade facing the coast

This home is a residence that the Finnish state representative has built to house their presidents. Raili and Reima Pietilä develop an exercise there daily unique space in which to express the specific relationship of political representation, using materials, light and characteristic landscape of this northern European country.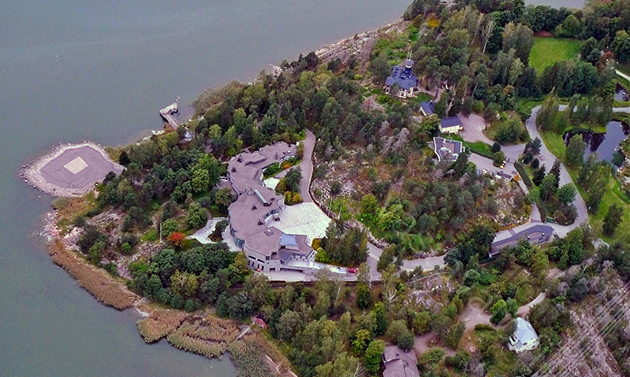 Finland, architects have lived for decades under the powerful shadow of Alvar Aalto. Few have managed to overcome the presence superlative and among those few highlights the marriage of Raili and Reima Pietilä; unique characters who managed to make a very creative contribution from the Finnish master thought. The architecture developed Pietilä lyrical poetry which bases its approach on the organic part of the work of Aalto.
For the realization of each work these architects elaborated large number of drawings, sketches and models. Considered essential phase formalization of ideas as space for creation and imagination of space. In his own words, a project needs to be based on a powerful idea. The difficulty is that many important ideas are visual when they are born and have arisen through specific drawings. Everyone knows that a good idea is embryonic and must be developed, even if you do not already have a form presentable.
Finnish architecture these occur along the second half of the twentieth century has always unmistakable personal stamp is expressed very well in residence Mantyniemi. Many of his works are the result of open competition, as in the case of this project would gain institutional 1983. Proyectual development and construction of this particular job would last ten years and end up just the year of the death of Reima.
On a plot of 20.000 m2, beside the seaside in Mehlati and outside the capital Helsinki, This building was constructed brief extended and phased plan that establishes its unique way to leverage visual range on the horizon and the coastal environment. Surprisingly for a building of this type, its total floor area is less than 2000 m2. In order to otro with, construction largely respects existing vegetation porte, composed of birch and conifers characteristic of this northern country. Ever since the project sketches and drawings always appears natural woodland reference to this in the context.
The residence for the president of Finland in Mäntyniemi is constructed with materials incorporating next geography. From the basic concrete to spruce wood and granite predominant clear tone that makes the building mask in place during the winter season. The assembly comprises three buildings, being the second-largest occupying an area of 680 m2- the one for stays booked for private activities of President. The most public areas, spaces such as reception staff, volumes are organized to be annexed by attaching to the main hall and stairs are connected by umbilical cords to act as hinges mode to form a group of three volumes interlaced correlative.
All art pieces set, furnishing, decorative and everyday items were specifically created by local artisans to join the country's representation constitutes Mantyniemi residence. Notable wooden ceilings and exquisite woodwork that punctuate the entrances to different rooms. A painting of Kimi Pakarinen is situated in the main dining, entitled We all have the same blood, so enlightened expressing extremely egalitarian character of the Finnish people.
This presidential residence reduced-size when compared with other similar examples- is an example of such idiosyncrasies austere, while extremely sensitive and creative, that a relatively poor country like Finland treasured resource.
More information:
Raili y Reima Pietilä. A challenge to the architecture. Lostonsite's weblog
Pine Niemi. Wikipedia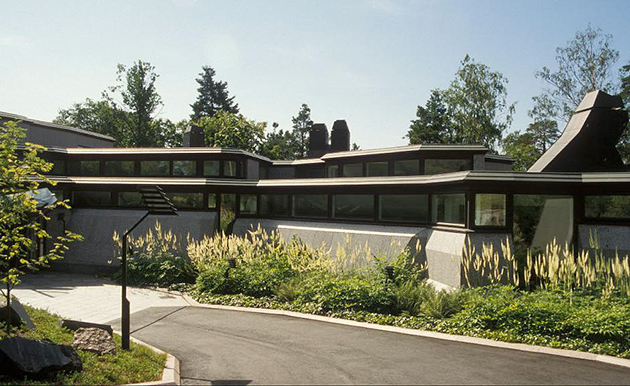 Partial view of the rear facade of the building. Image: John Sculley Jr. KSA Digital Library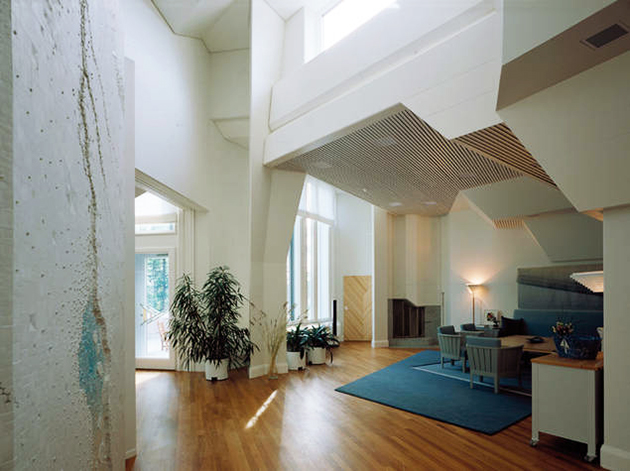 Space inside the meeting rooms and views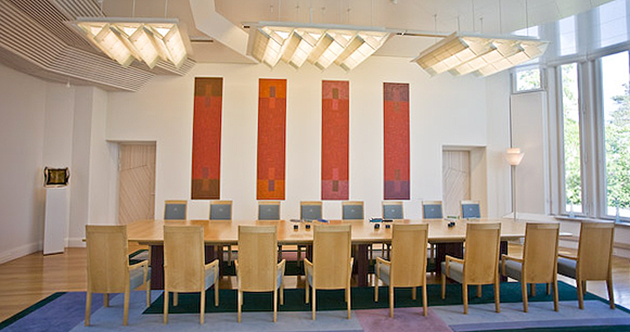 The large dining institutional painting Kimi Pakarinen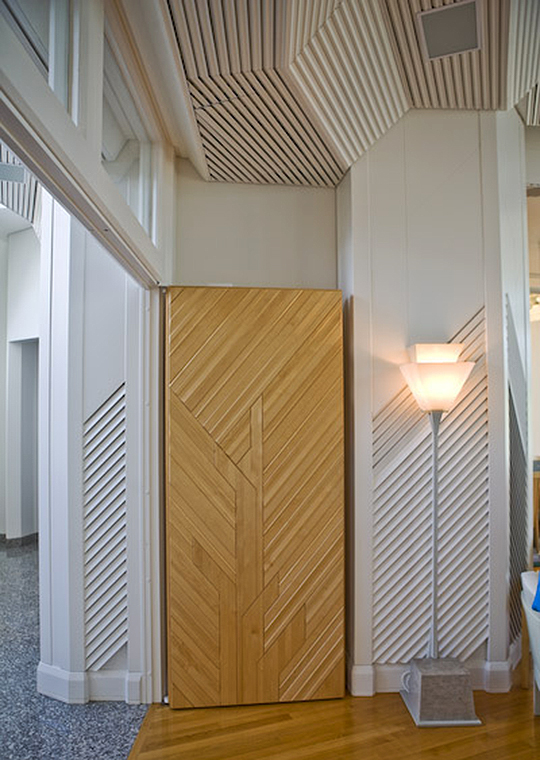 Plans: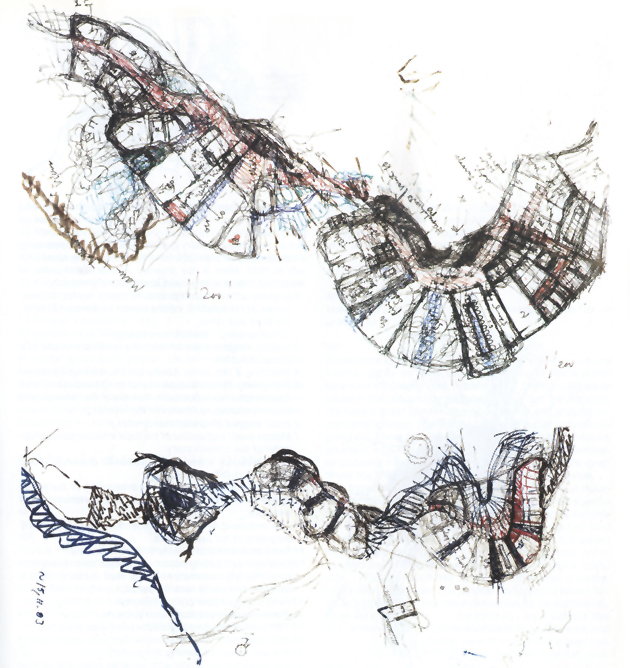 Sketch of work for Mäntyniemi residence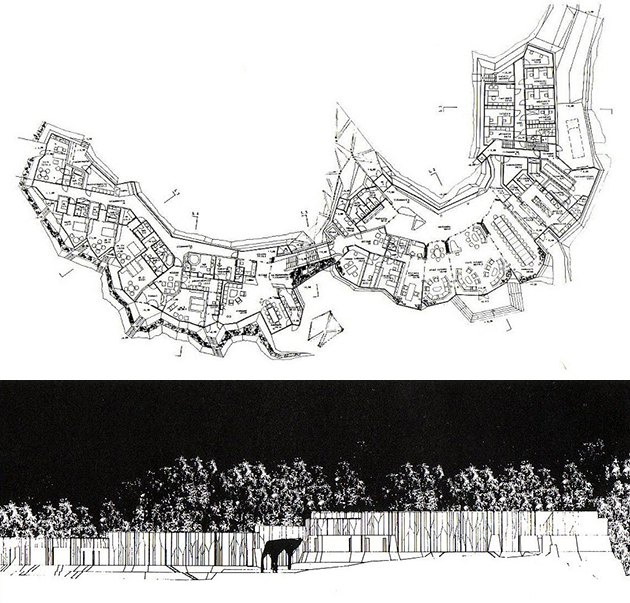 Plan and elevation made final project
Aerial view of the set

Location:

View Larger Map
Books: