Albert Frey
686 West Palisades Drive
Palm Springs. California, USA, 1964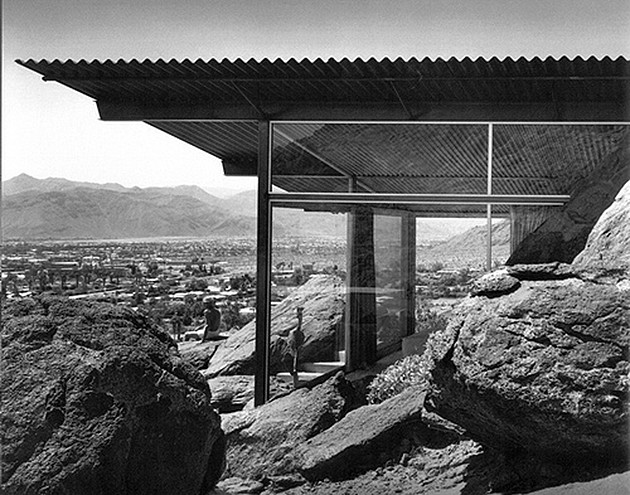 The house project in the Swiss Desert Albert Frey for himself in Palm Springs, stands out for its simplicity and radicalism without conditions. This architect, to develop his main work in California, is little known beyond the American West. Migrate to that place early 40 twentieth century.
This building is a small volume embedded in a rocky hillside that has the distinction of introducing the very rough terrain and elements in their formal composition. The meager interior space reserved for users barely reaches thirty m2, ensuring minimal basic existence.
The house is projected onto the Southern California desert and its main objective is to enjoy the scenery from the top, occupying a small space or horizontal platform on the slope covered with rocks of all sizes. The architect remains virtually untouched keeping the site integrating the natural elements in the composition. At the same time tries to align with the orthogonal urban grid established by the urban plan of the town.
Construction elements are simple. A basic structure consists of steel uprights that support a corrugated cover the same material covered in Corten. The cover sheet is projected on the protected volume generously to establish a range of appropriate shade of strong sunlight conditions in the place. The bare walls are made with large glass panels and curtain fabric. The interior ceilings are covered with perforated metal plate hiding isolates and, finally pavements are constructed using polished concrete.
After two decades living in the desert, Frey opted to experience the same in one of its most radical architectural constructions. As the same describe: after many years of living and looking at the rocks, the plain and the mountains I decided it would be nice move directly to that place and live up there.
More information:
Albert Frey Architect. Wikipedia
Albert Frey. Modern Desert Homes
Albert Frey House I. YouTube
Books: