Erik Gunnar Asplund and Sigurd Lewerentz
Enskededalen. Stockholm, Sweden. 1920

The Forest Chapel was designed by Gunnar Asplund
and Sigurd Lewerentz is the first chapel and the smallest of the Forest Cemetery Located south of the city of Stockholm, the cemetery is made up of a series of chapels and crematorium, a cross and the landscape consists of an extensive forest.
CHAPEL IN THE FOREST
The chapel was opened in 1920 and is a small wooden building with whitewashed walls and roof shingles black of wood chips. It is a work of small size and humble in its objectives with a perfect integration
tion in the landscape. Located in the middle of a grove of fir trees surrounded by a wall, vernacular typology is a rural church where one is lost in the dark forest.

The chapel itself is square and inside is a dome through which light enters indirectly. This chapel is small size space composed of a classical portico 12 columns where the cover over the entrance is the only decoration of the chapel, a little angel of death of Carl Milles. Then, the small sculpture was a challenge – and much debated – because it is a female figure opening his arms to receive visitors. The porch is a transitional space and gives access to a hemispherical dome space. The design of the vault of the crypt is like an old root cellar, symbolizing heading back to the land.
Stresses its simplicity and austerity which is so suggestive Calvinist as the most ornate baroque altarpieces

The Forest Chapel was carefully designed, to the smallest detail, with many features and symbols,for example, the keyhole of the door is the eye of a skull, opening death. The wrought iron gate also contains many Christian symbols.
References:
Detailed Work PlataformaArquitectura:
Architect Biography in Wikipedia:
UPPA input on the Cemetery in the woods:
Video of the Cemetery and Chapel:
Plans: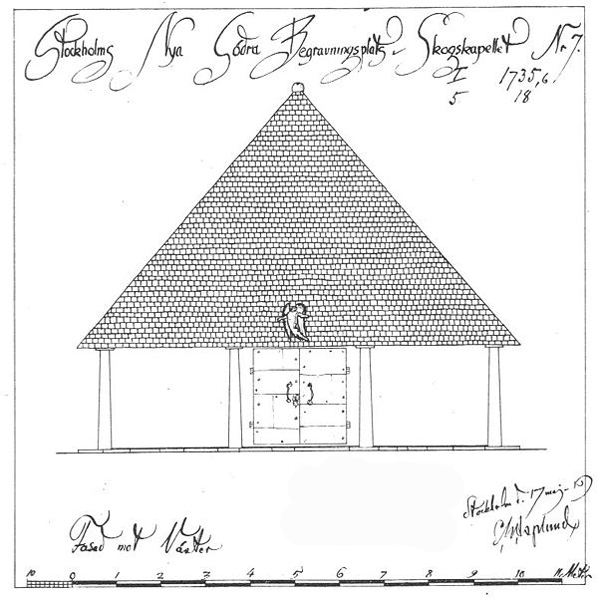 Books:
Location:

View Larger Map