Alison y Peter Smithson
2, Farm Field. Wattford, Men Herefordshire. England. 1955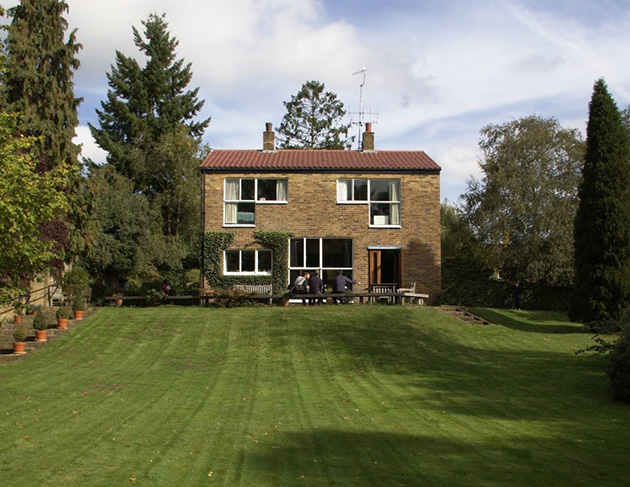 The family Sudgen, through the engineering firm Ove Arup, marriage of architects responsible commissioned to design a house detached about 150 m2, in a town just outside London.
The house, which has two floors- are arranged around the geometry of a rectangular volume proportions treatment completely flat surface appearance due to heavy use brick. The ground floor is divided on the basis of a large "L" where you have the kitchen and the living room that communicate visually with each, the ceiling in the living room gains altitude to give higher quality to space.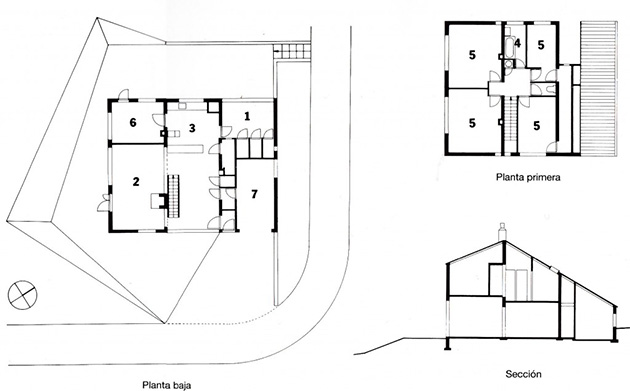 Upstairs, develops the sleeping area of ​​the dwelling, consists of four bedrooms and a bathroom that is perfectly arranged around a lobby which is reached by a staircase of a single tranche. The rooms are located each in a corner of the plant and determine the externality of the facades, the Northwest and Southwest elevations are made based on a geometry pursued but without imposing symmetry, while the rest of the facades is solved by arranging the holes in a "disorderly".
The sloping roof tile finish, shown and reflected inside building, bedroom so that also enjoy some spaciousness.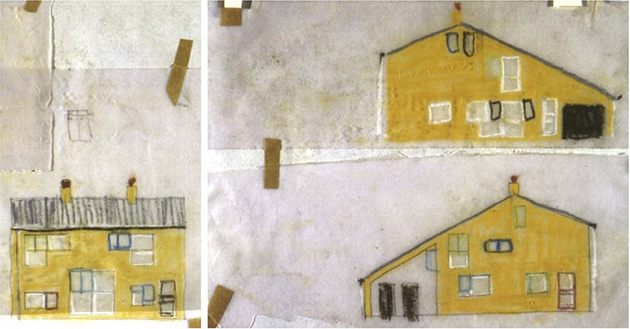 Sketches for the resolution of the elevations
It should be noted in this work, architects ability to relate functional distribution with three distinct spatial regions as housing having, by employing a structure of load-bearing walls, which is solved in a very simple and elegant.
The composition and surface simplicity of this work, concentrating numerous nods to the contemporary in design, For example, in the arrangement of the voids in its interior facade. Also of note is defending a friendly which recovers everyday usages of the British country house. This project would thus rise to a whole building tradition that influenced numerous private developments along and breadth of Britain in later years. In some ways, prefigure architects here some formal ideology tics then postmodernists adopt in their recovery from past architecture.
Aesthetically the house Sugden, with brick walls and tiled pitched roofs, us closer to the idea of ​​the Smithsons somehow recover the use of vernacular materials and construction language for incorporation into the new expression of modern. And, at the same time, evoke, from a certain melancholy, the image of those houses London district which influenced his approach to architecture.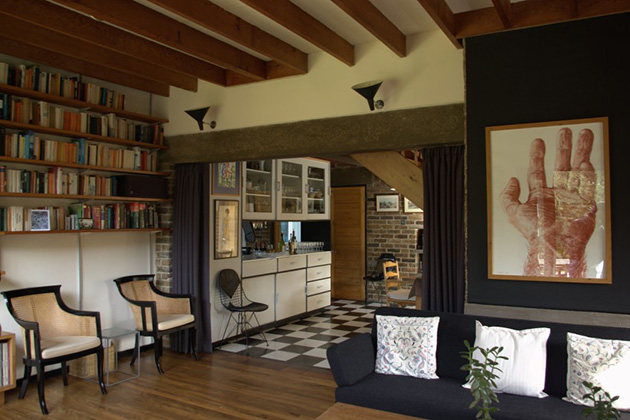 Interior view of the living room-kitchen housing
More information:
Sugden House Listing in the Catalogue of Inglés Heritage
Location:
The Smithson on Housing. Marriage proposal Smithson explains their homes in Robin Hood Gardens.
Books: