Diébédo Francis Kéré
Gando, Tenkodogo. Burkina Faso. 2001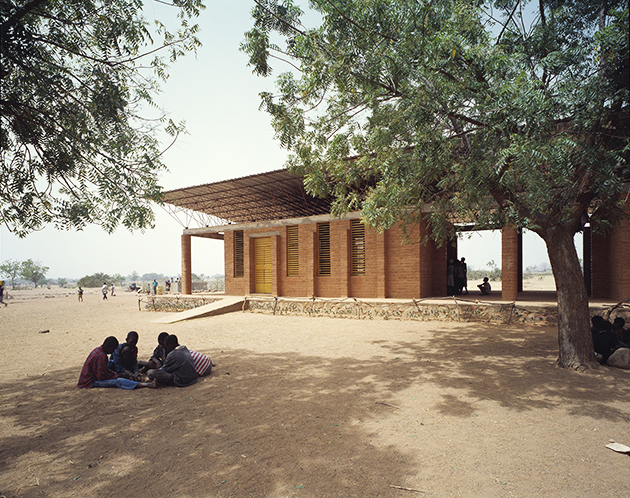 This project sought to provide educational services to the residents of the home region of the architect. Designed in 1999 Kéré be built while he was studying architecture in Berlin, by a training grant from the German government.
Their spatial form is defined as a rectangle covered with a large umbrella shadow ensuring necessary to withstand the high temperatures and extreme Local soleamiento. Under the protected area would be placed three rectangular rooms that would house classrooms, separated by open areas in shadow for conducting games and other activities. The construction system based on simple supports ceramic bricks is built on a base of concrete beams that support the inner covers and the hood; and this in turn is formed by a structure supporting and triangular metal sheets. The closings, be made with local clay blocks compressed, defining a load primary structure works closely and supports the slabs of the same material reinforced with steel armor. The pavements are executed in situ with rammed earth, compacted and hand polished. The whole job took a total cost of 30.000 $ to completion.
As can be seen one of the main concerns of the architect was the fit of the idea with the technological possibilities. Both in regard to the production of the materials used in the development of the construction process for which took into account the actual local conditions. In this case, we employed the skills and knowledge of the inhabitants for execution. All, by previous work of self-organization and collective decision involving the intended beneficiaries. Those who participated in the project were from the place, allowing them to learn the techniques applied for use in other initiatives that have occurred in stages. As noted by the same Kéré the main challenge was how to explain the design and techniques to employ people who have no expertise and they really can not read or write.
The work itself has extraordinary value as it has been done using very simple principles for sustainability, both in construction and in the consideration of climate comfort. But more remarkable still is the idea that an architecture consistent with the needs of the twenty-first century must necessarily be obtained materials and resources mostly in its neighborhood. In a likely scenario of widespread scarcity of cheap energy for transportation is essential to understand how built back former based access to capabilities of people and materials closest.
This work has been recognized on numerous occasions, being the most prominent award, Aga Khan Award granted in 2004.
More information:
Review of the work of the architect page. Kéré Architecture
Awards for Architecture Aga Khan . Aga Khan Foundation, 2004
Conference Diébédo Francis Kere. Royal Institute of British Architects de Londres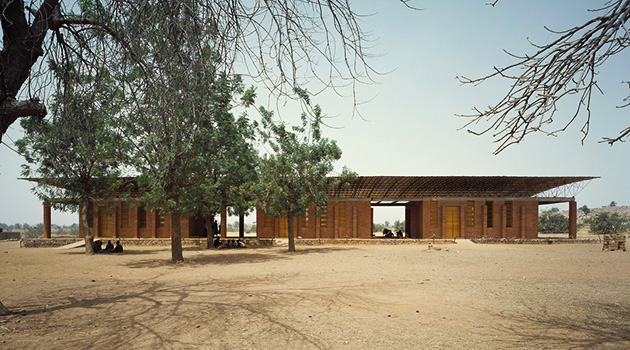 Bridging the gap. Mohsen Mostafavi presents the architect students from the Graduate School of Design. Harvard University, 2011