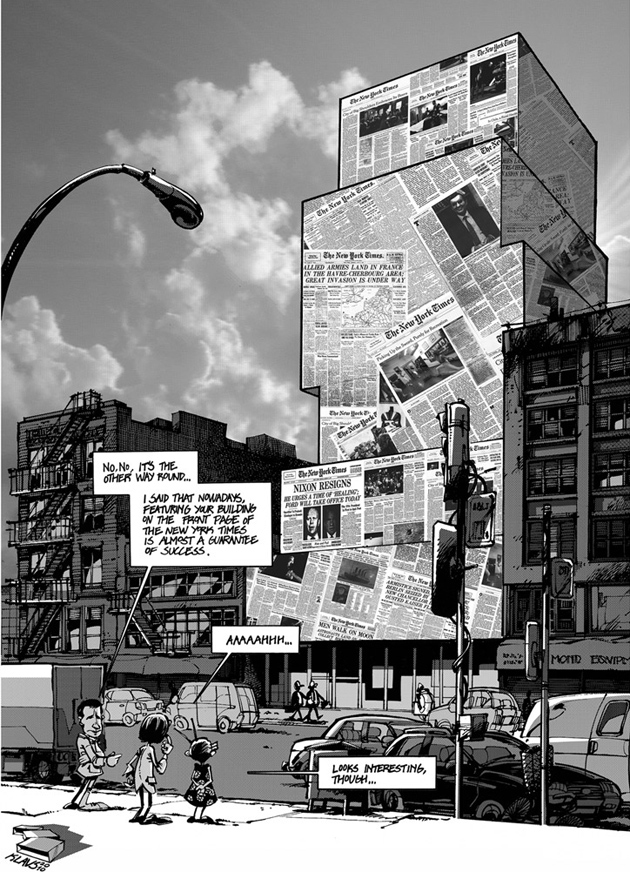 El comentario mordaz de Klaustoons al edificio del New Museum of Contemporarýa Art de Sanaa
Desde sus inicios las historias dibujadas, que hoy conocemos como Cómic, han necesitado situar sus argumentos en espacios reales o imaginarios. Algunos grandes maestros de ese arte popular han tenido han tenido una especial predilección por representar correctamente las arquitecturas de las ciudades que tienen una relevancia cultural.
La relación entre cómic y arquitectura es constante a lo largo de sus escasos 150 años de historia. Windsor McKay trataría en Little Nemo de establecer un relato onírico apoyado en la descripción de las metrópolis americanas contemporáneas. A McKay le han seguido otros numerosísimos autores que han planteado sus visiones urbanas y arquitectónicas con indudable maestría como Moebius, Joost Swarte o, más recientemente, Klaus cuyo blog Klaustoons ejerce una crítica mordaz del panorama académico relacionado con la Graduate School of Design de la Universidad de Harvard.
Especial interés tiene la relación entre las propuestas de arquitectura de vanguardia y el cómic especializado en historias de ciencia ficción. Es una correlación entre arquitectos y dibujantes que se produce en los dos sentidos, influenciando la creatividad en ambas disciplinas. Las representaciones galácticas de Jean Giraud, alias Moebius, en sus series tituladas El garaje hermético El Incal de 1980, nos enseñan construcciones y entornos tecnológicos brillantemente imaginados que, por ejemplo, algunos edificios de Santiago Calatrava nos pueden rememorar.
Esta semana tendrá lugar un ciclo de conferencias y debates en Madrid que va a tratar en detalle el diálogo entre Cómic, Arte y Arquitectura. Organizado por la Fundación Mapfre y coordinado por el arquitecto Jesús Moreno y el escritor Martin Casariego será un momento para explorar esta relación. Las cuatro sesiones previstas contarán con la presencia de destacados historietistas, historiadores del cómic y del arte, arquitectos y artistas, que ofrecerán una conversación alrededor de esa mutua influencia existente entre el cómic, las artes plásticas y la arquitectura.
More information: Cómic, Arte y Arquitectura. Fundación Mapfre Madrid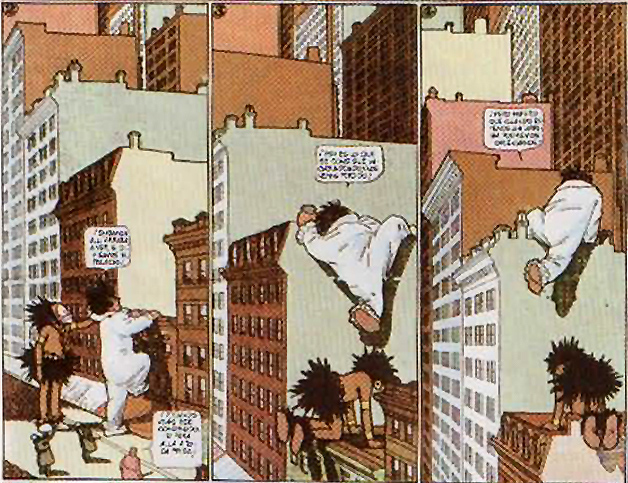 Little Nemo in Slumberland. Windsor McKay. 1905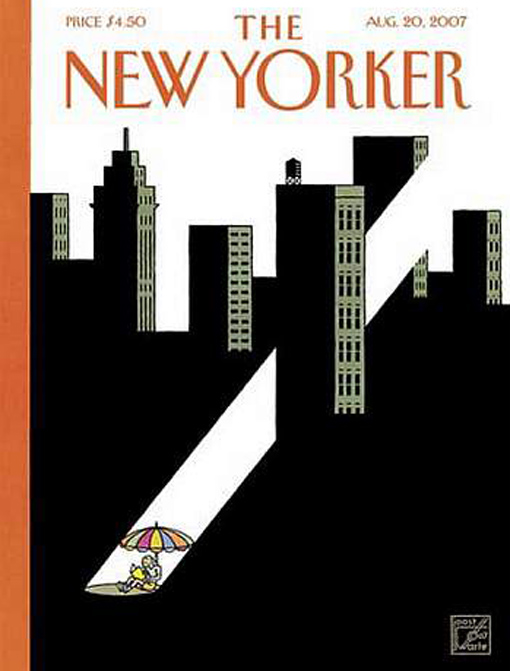 Portada de Joost Swarte para el semanario New Yorker, 2007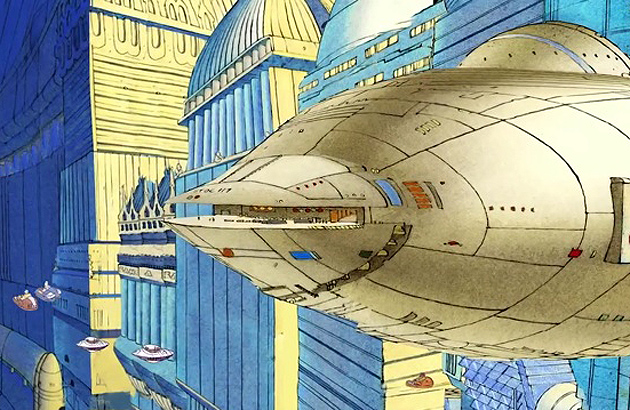 El Incal. Representación urbana futurista de Jean Giraud, Moebius y Alejandro Jodorowsky, 1981.
Cómic y Arquitectura

,