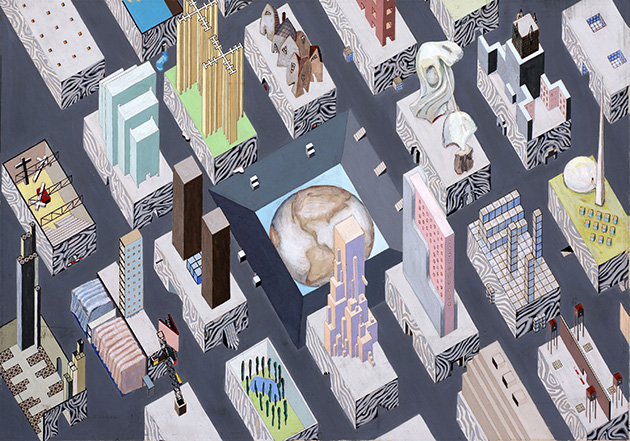 La ciudad del globo cautivo. Madelein Vriesendorp y Rem Koolhaas, 1972. MoMA Art Collection
A lo largo del siglo XX, la ideología urbanística se ha ido centrando paulatinamente en la definición de complejos marcos normativos que se orientan a pautar cualquier aspecto del espacio para garantizar el control burocrático de las ciudades.
Hoy sufrimos la resaca de esa visión racionalizadora y es necesario recuperar visiones más positivas en el manejo de los territorios metropolitanos. teniendo en cuenta esta deriva, los siguientes libros ofrecen perspectivas diversas para el tratamiento de las cuestiones urbanas dando pautas para una comprensión más inteligente de la complejidad y también para la mejora del espacio público a través de una planificación y proyecto de las ciudades desde diversas aproximaciones y escalas.
 
Cities for people. Jan Gehl. Island Press, 2010
Según Gehl, las ciudades en el siglo XX sucumbieron a la ideología de la planificación funcional y utilitaria, convirtiendo el espacio público en un ámbito secuestrado al movimiento y transporte privado y el aparcamiento de vehículos a motor.
Lo que se propone en este libro es la recuperación de la "vida entre los edificios", la liberación de las superficies colectivas de las ciudades para la convivencia mediante su rediseño cualitativo. Se trata de reconocer la importancia del tráfico peatonal para la sostenibilidad, la salud y la vida de las personas.

Cities for people. A lecture in the city of Melbourne by Rob Adams and Jahn Gehl
An encounter of Rob Adams and Gehl about places for people first. That meaning the intelligent renovation of urban space for great large pedestrian paths, lush vegetation and encouraging civic encounters. Like in the Australian city of Melbourne.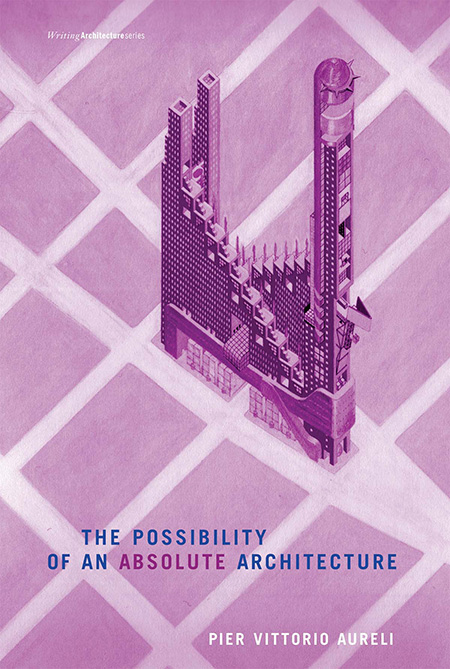 The possibility of an absolute architecture. Pier Vittorio Aurelli. MIT Press, 2011
El autor hace un análisis de la relación entre arquitectura y ciudad desde la reflexión sobre la obra de determinados personajes históricos como Palladio, Piranesi y Boullée. A partir de ellos  introduce ejemplos contemporáneos de esta misma perspectiva como las desarrolladas por Oswald Mathias Ungers y Rem Koolhaas.
Una de las tesis centrales del libro es la presentación de los territorios metropolitanos contemporáneos como inmensos océanos en los que se inscriben pequeños archipiélagos de arquitectura. Así concluye que las obras relevantes de arquitectura constituyen una excepción minoritaria dentro de la inmensa masa construida.

The possibility of an absolute architecture. Pier Vitorio Aurelli at the KTH Arlitekturskolan

A presentation of his interesting book at the architectural school of Stockholm. His central thesis is that architecture is a precondition for political, cultural, and social engagement within the city.
El jardín de la metrópoli. Enric Batllé. Gustavo Gili, 2011
El profesor Batlle hace un recorrido por las distintas concepciones del espacio libre como jardín, parque y reservas ambientales para presentarnos una concepción globalizadora de la vegetación como unificación necesaria desde la que redefinir la planificación de las metrópolis contemporáneas.
Partiendo de las ideas pintorescas del paisaje y de los conceptos ecológicos de McHarg y Forman plantea la construcción de una nueva forma de aproximación al manejo territorial superadora de las concepciones restrictivas del urbanismo convencional.
L'urbanisme dels espai oberts. Enric Batlle, 2014
Un video que recoge una conferencia en la que Batlle explica sus ideas del espacio libre en el área metropolitana como la base de su "matriz ecológica" y sus componentes como base para una nueva idea de urbanismo en la ciudad de Barcelona.
Entender el territorio contemporáneo

,