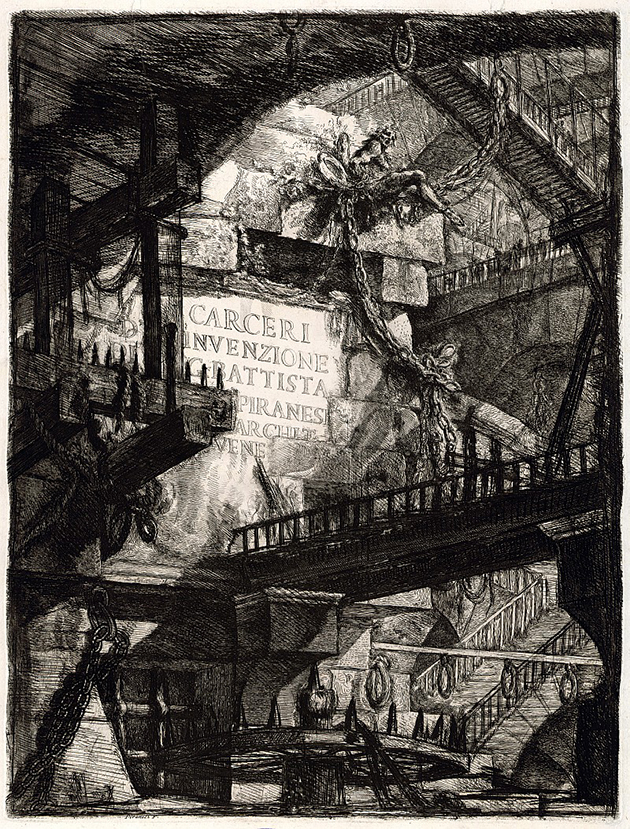 Portada de la colección de grabados Carceri d'invenzione. Gian Battista Piranesi, 1745-1760.
In 2010, con motivo de la Bienal de Arquitectura de Venecia, tuvo lugar la exposición titulada The Art of Piranesi. Fue una muestra en la que se exhibieron reproducciones de determinados diseños del artista realizados con una depurada técnica de impresión tridimensional.
 
Piranesi, Carceri d'invenzione from factum-arte on Vimeo.
El legado gráfico de Piranesi, un personaje que trataba de dejar atrás el barroco incidiendo en sus espacios y formas más complejas, ha sido fuente de inspiración para numerosos arquitectos posteriores. la expresión de un tiempo convulso en el que no pudo hacer realidad sus ideas imaginadas. Era un momento en que la construcción artística experimentó una paralización y algunos arquitectos italianos se dedicaron a investigar sobre el pasado remoto en ciudades como Roma y Venecia. Surgiría así una profesión, la de los Anticuarios, exploradores y recolectores de objetos e ideas, consagrados al rescate e interpretación de un pasado remoto, el de la antigüedad romana. Algunos como Piranesi tuvieron la voluntad de imaginar una posible arquitectura alternativa inspirada en ese pasado clásico. Ysuperadora de las obras renacentistas y barrocas, siempre sobre la base de la inspiración en aquellos restos y ruinas romanas que tanto amaría y dibujaría incansablemente.
In The Art of Piranesi, se incorporó una curiosa pieza de animación digital. Allí se mostraba un video que nos permitía recorrer los imaginarios espacios soñados como Cárceles Inventadas por el arquitecto italiano del siglo XVIII. Toma como referencia los dieciséis grabados que constituyen la serie de las cárceles, un trabajo que ejecutó a la edad de veinte años en un esfuerzo por imaginar una arquitectura alternativa. Piranesi, Carceri d'invenzione nos permite efectuar un recorrido virtual por los grandiosos lugares imaginados por Piranesi en una animación creada por Gregoire Dupond para Factum Arte.
Una experiencia maravillosa que nos remite a un universo que no tuvo nunca contrapartida en la realidad.
More Information:
Piranesi. Develador de espacios. Islands and territory. 21/01/2012
Giovanni Battista Piranesi, Carceri d'Invenzione. El hurgador.  02/07/2013
The Art of Piranesi. Factum Arte.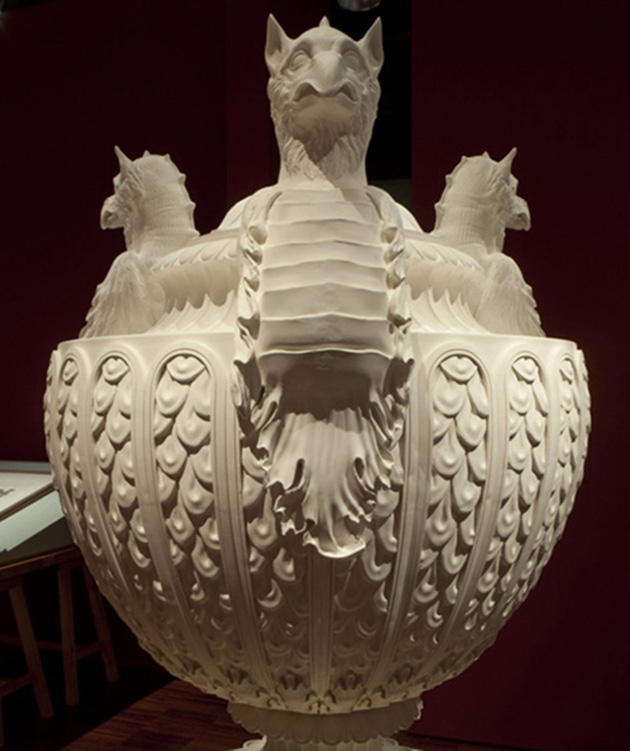 Reproducción del Vaso antico di marmo presso il Signor Dalton. Del grabado homónimo de Piranesi, 1778. Factum Arte
Recorrer los espacios de Piranesi

,