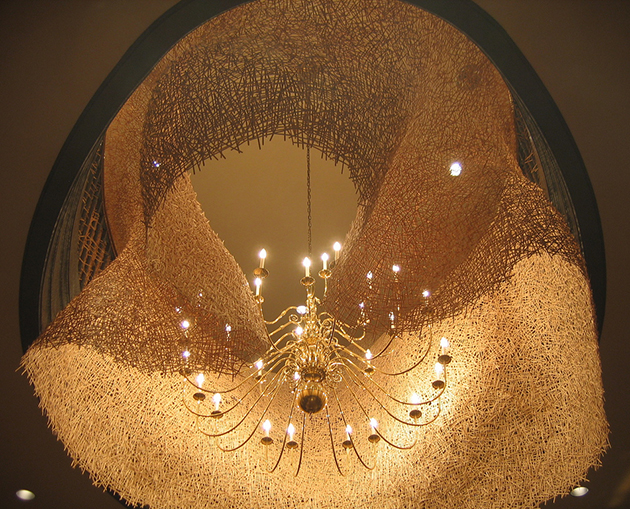 The Sumter Piece. Jonathan Brilliant, 2007
These spatial structures are the result of the small moments of rest of this young artist in a coffee shop chain Starbucks. In this place, in which to make his drawings advantage while taking a long coffee, where are the Brilliant, graduated in Arts from the University of Charleston, South Carolina, comes up with the idea of ​​starting to explore and investigate the possibility of generating complex spatial arrangements using the only resource, materials present in these cafes.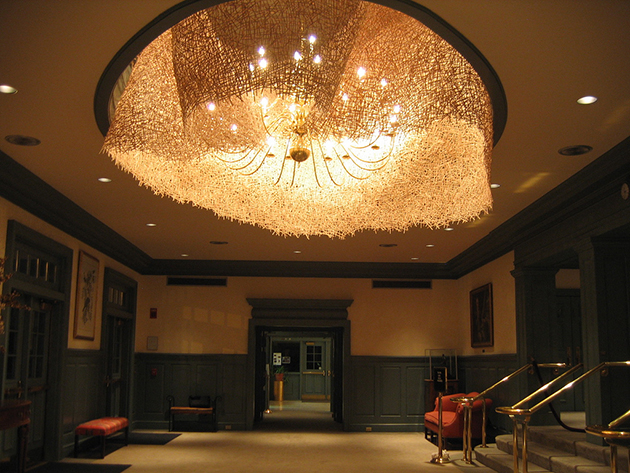 The Sumter Piece. Jonathan Brilliant, 2007. Artista residente en Sumter, South Carolina 2007
Sus esculturas-instalaciones, hechas con esas piezas tan cotidianas y tan propias de la cultura reciente como podrían ser los vasos, las tapas o los simples palitos agitadores destinados al consumo del café. Son estructuras que están enteramente ejecutadas a mano, sin la ayuda de ningún material adhesivo o producto fijador. Sus curiosas volumetrías son inmensas estructuras parecidas a tejidos en las que el autor emplea entre 5.000 and 60.000 piezas colocadas estratégicamente y que tienen la  capacidad de auto sostenerse por el simple fenómeno físico de la tensión.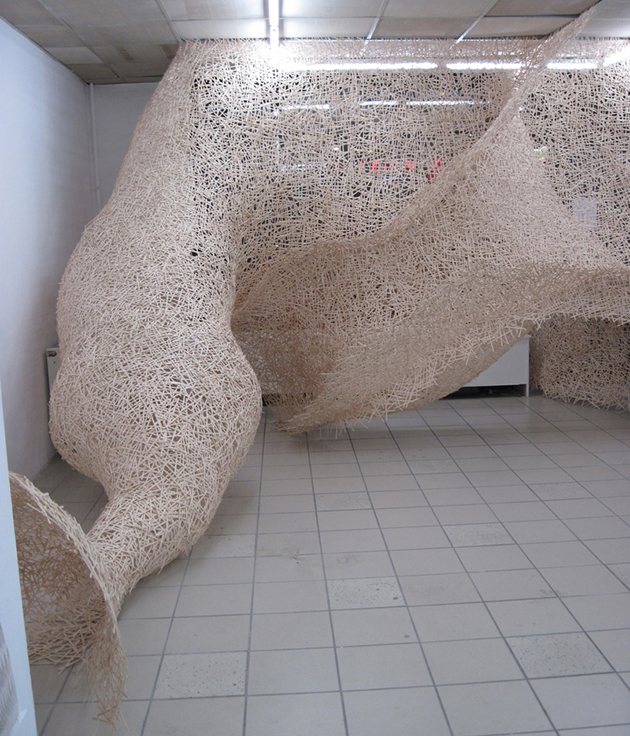 The Berlin Piece. Jonathan Brilliant. Dam Stuhltrager Gallery. Berlín, 2009
Como si de un ave que fabrica su nido y con una técnica similar a la tradicional de la cestería china, Jonathan Brilliant elabora estas complejas mallas orgánicas de formas sinuosas, ondulantes, llenas de energía y de proporciones gigantes en un proceso que dura entre una o dos semanas. Son objetos que construye con la ayuda inicial de una estructura básica, apoyando pieza sobre pieza; que se conciben como dibujos en el espacio, casi como cestas que se distorsionan debido a fuerzas externas y que producen en el espectador una gran sorpresa y fascinación. Podemos pensar que existe una gran fragilidad inicial, casi como una construcción similar a un castillo de naipes. However, detrás de estas vastas aglomeraciones de palitos se esconde una robustez difícil de imaginar. Son casi la expresión de una gran resiliencia, como la que una gran cantidad de jóvenes se ven obligados a experimentar hoy en día.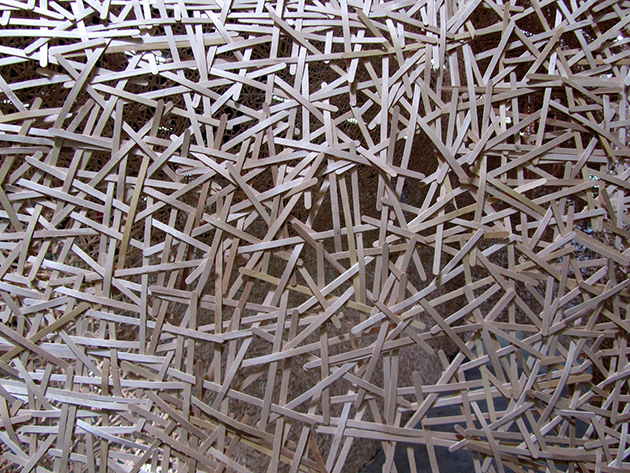 Detalle de las complejas tramas desarrolladas por el artista

La repetición puede ser una estrategia artística interesante. Es algo que los minimalistas explorarían en la segunda mitad del siglo XX. Brilliant explora las variaciones que pueden surgir partiendo de piezas de serie repetidas hasta el infinito. En su caso, la arbitrariedad nos lleva hacia estructuras espaciales de una gran riqueza volumétrica y formal.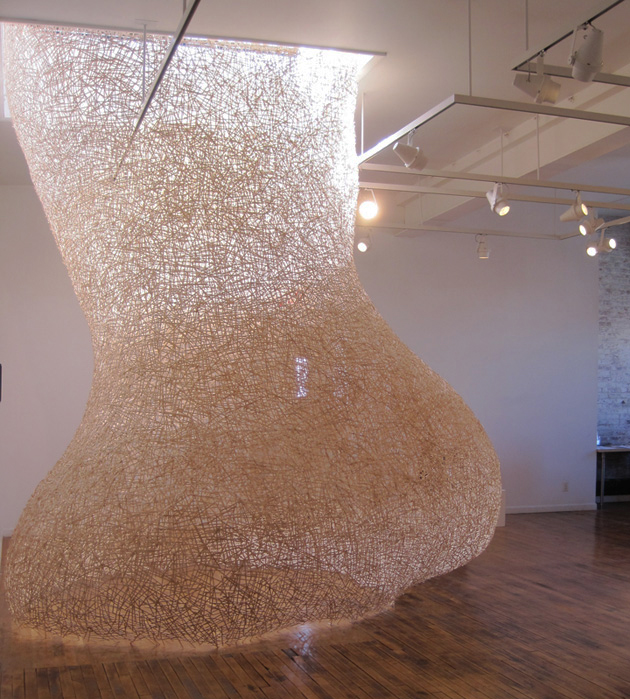 The ethernal return. Jonathan Brilliant. Nurture Art Brooklyn 2010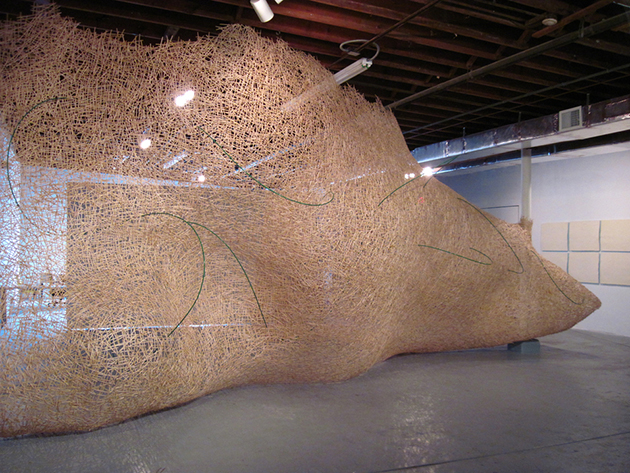 Have sticks will travel? Jonathan Brilliant. 18Rabbit Gallery, Fort Lauderdale, 2010
Mas información en la web del autor: http://www.jonathanbrilliant.com/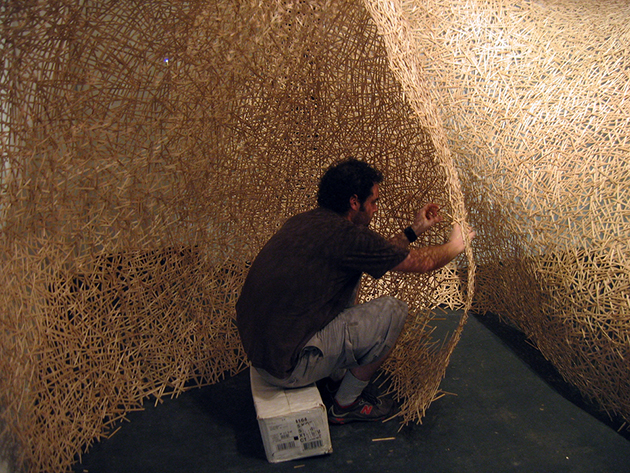 Jonathan Brilliant trabajando en su pieza berlinesa
The curious baskets Jonathan Brilliant

,