Water House. Mud flat, 1982
Nils Udo is a Bavarian artist veteran who has devoted his life to offer new ways of perceiving human action on the natural territory. His artworks are unique actions in using natural elements palette to establish new and seductive formal compositions and artistic.
Nils Udo practica una forma de Land Art suave y estetizante que busca generar imágenes profundamente sencillas empleando recursos escogidos entre la vegetación yla geología. Segúnsu forma de ver las cosas del arte, cada pieza es una respuesta al paisaje circundante en que se inscribe y una interacción con los materiales naturales que allí encuentra. Para ello, utiliza frutas y flores naturales junto con ramas y piedras que organiza en composiciones sencillas para forjar la ilusión de novedosas casualidades relacionadas con la belleza del paisaje.
Él mismo lo explicaría así: "Dibujar con las flores. Pintar con las nubes. Escribir con el agua. Trazar el viento de Mayo, el recorrido de una hoja caída".
Una de los atractivos de las piezas de Udo es el carácter misterioso del encuentro fortuito con elementos que se configuran siguiendo ordenamientos no convencionales. Grandes nidos de ramas o alineaciones de frutas por escalas de color son ideas que ofrece en sus obras como atisbos de un mundo paralelo y alternativo de potencialidades inesperadas.
El trabajo de Nils Udo es el fruto de incontables horas de un deambular por campos, montañas, ríos y bosques buscando ideas para alterar con ligereza y sensibilidad el paisaje encontrado. However, según él cualquier alteración de lo preexistente es desgraciadamente una forma de destrucción de lo que se reverencia en extremo. Para Udo solo la naturaleza salvaje puede ser la única fuente de inspiración:
 "Trabajo en paralelo a lo natural y solo intervengo con el máximo cuidado posible. Incluso así se mantiene una contradicción básica. Es la contradicción que subyace a todo mi trabajo, que no puede escapar a la fatalidad inherente a nuestra propia existencia. Se destruye lo que se toca: la virginidad de lo inmaculado… Realizar lo que es posible y latente en la Naturaleza, construir lo que nunca ha existido, es una forma de utopía que se transforma en realidad. Una segunda vida de los objetos. El acontecimiento ha tenido lugar. Solo lo he animado y hecho visible".
More Information:
Nils Udo. Fundación César Manrique. Lanzarote
Nils Udo. Green Museum
Las páginas del artista natural. Morning Earth
Ipomeas sobre el agua. Isla de la Reunión, 1990

Flores de Girasol flotantes. Marismas del Danubio, 1993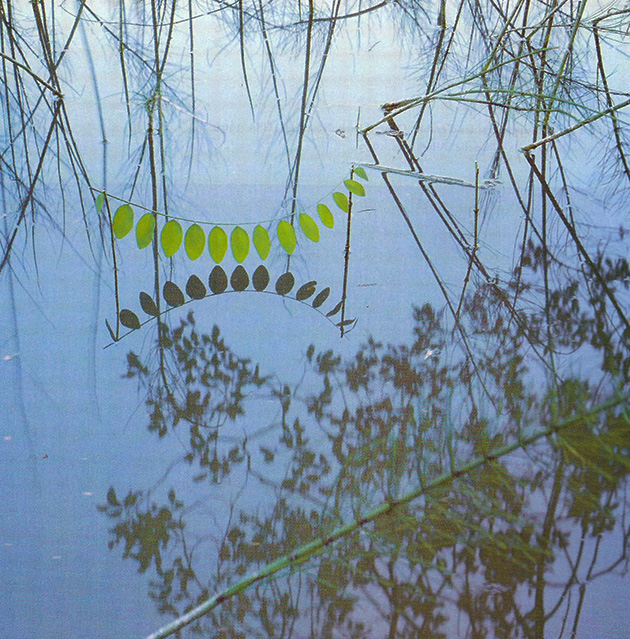 Hoja de Robinia balanceante. Valle de Sella, 1992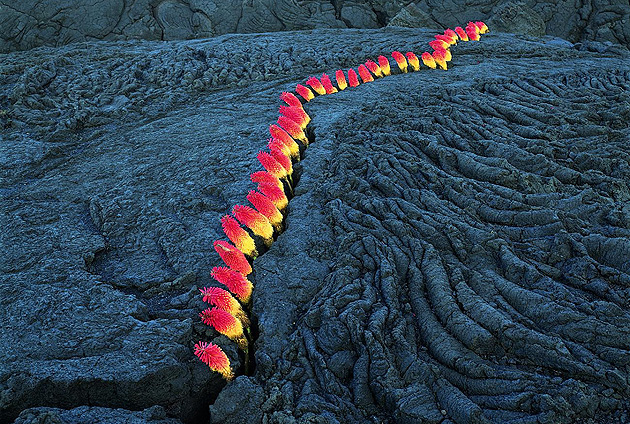 Flores sobre la lava. 2010
The peculiar landscapes Nils Udo

,