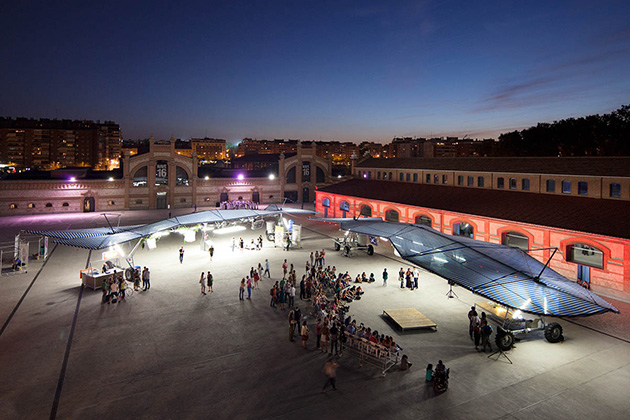 Night view of the Terrace Slaughterhouse tents designed by Andres Jaque Arquitectos. Madrid, 2012. Photography: Miguel de Guzmán
Andrés Jaque is a restless Spanish architect who has been steadily making its way into the cultural. His proposals usually have a point of invitation to play and surprise as this Escaravox that has invaded the space Matadero Madrid.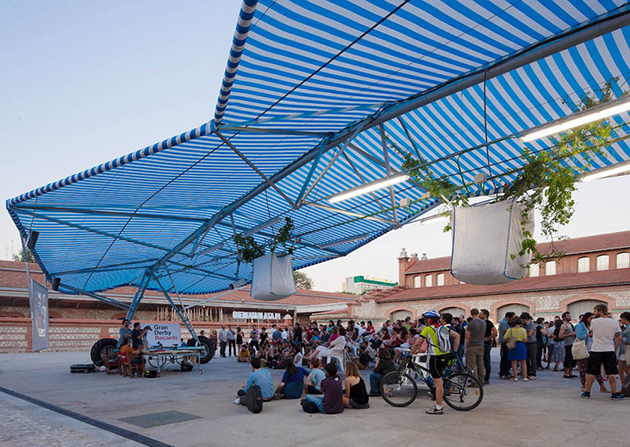 Desarrollo de una de las actuaciones bajo los espacios configurados por los Escaravox. Andrés Jaque Arquitectos, 2012. Photography: Miguel de Guzmán
 Se trataba de dotar a los patios exteriores de esta gran institución cultural madrileña con elementos que permitieran la celebración de diversos actos al aire libre, tales como representaciones teatrales, actuaciones musicales, muestras de cine amateur, etc. Para ello, el equipo del arquitecto propuso la introducción de varias piezas móviles que crean un espacio de encuentro a cubierto a la manera de grandes carpas de circo, y que están dotadas con iluminación, megafonía e, incluso, plantas colgantes. Con ello, se mejoraba la calidad ambiental de un espacio abierto sometido a la contingencia de un soleamiento excesivo.
Su diseño se basa en la utilización heterodoxa de elementos industrializados, que se reconfiguran para generar unos artilugios y que permiten de una manera flexible su ajuste a las necesidades de los usuarios. En este caso, piezas que provienen de los sistemas de irrigación agrícola se han empleado como soportes estructurales móviles para estas grandes carpas. Los elementos báiscos se fabrican en acero galvanizado y a ellos se han acoplado unas cubiertas para sombreamiento formadas por mallas de fibra de vidrio. Las formas generadas asemejan a grandes insectos con patas rodantes y alas formadas por tensores y tejidos plásticos. Los Escaravox han invadido el  gran espacio patio introduciendo una nota de color y contraste en un lugar de difícil uso y aprovechamiento.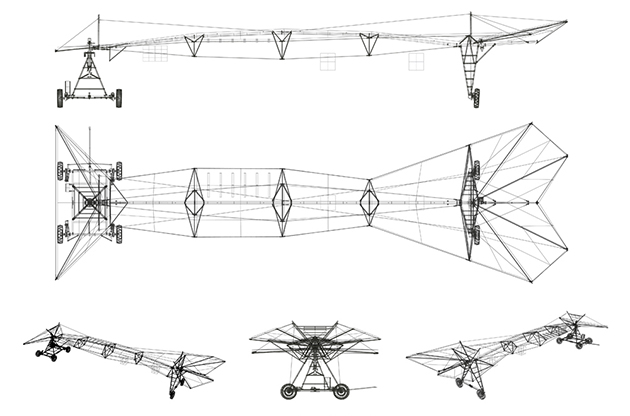 Diseño del elemento Escaravox. Andrés Jaque Arquitectos, 2012
Al igual que ocurre en numerosas ciudades del mundo desarrollado, el reciclaje de edificios y estructuras industriales abandonadas se ha convertido en una estrategia esencial en la apuesta por estimular un desarrollo urbanístico más acorde con la sostenibilidad del planeta. Dentro de esta filosofía, el Matadero de Madrid es un lugar de encuentro que se ha transformado con el paso de los años en uno de los espacios colectivos más dinámicos de la capital española, acogiendo numerosísimas manifestaciones culturales de todo tipo.
El proyecto de Jaque contribuye a esa reapropiación de espacios industrializados para usos diversos, estableciendo una posible reconfiguración arquitectónica. El resultado generado supone una mejora evidente de un espacio público al que se le añaden nuevos atractivos. Escaravox ha sido seleccionado este año 2013 como Finalista para los prestigiosos Premios FAD catalanes en la modalidad de  Ciudad y Paisaje.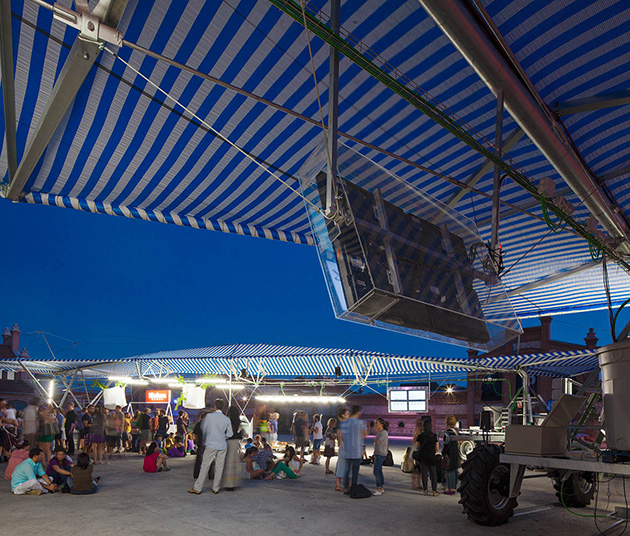 More information:
Excaravox. Andres Jaque Arquitectos. Platform Architecture 18/09/2012
Excaravox Populi. Convocatoria abierta para la Terraza Matadero
Giant Insects Andrés Jaque

,