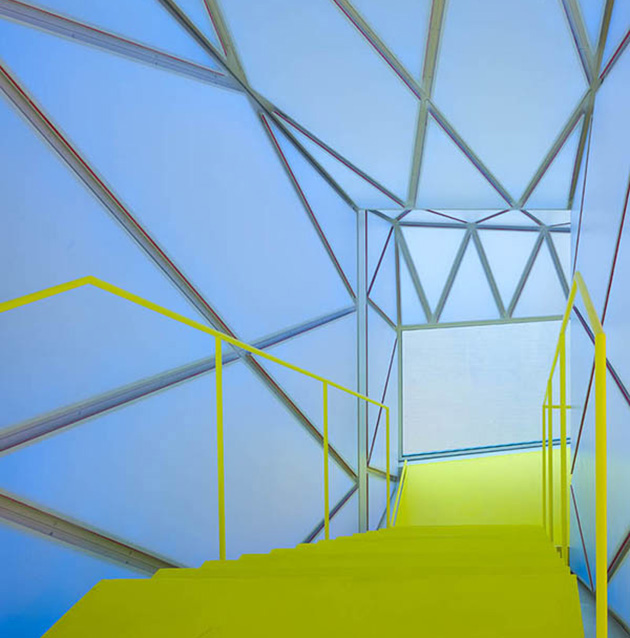 Inside the Medialab Prado. Renovated building of Belgian Sawmills. Langarita and Navarro Architects, 2012. Photos: Miguel de Guzmán 
Recently, have presented selected works, finalists and winners of the Twelfth Edition of the Biennale of Architecture and Urbanism promotes the Department of Architecture in collaboration with the Council of Colleges of Architects of Spain and Caja de Arquitectos. Among the fifteen prize winners we pick the new headquarters of Medialab Prado, a reform that has taken place in the old building of the Belgian Sawmill and whose leaders have been Langarita Madrid architects and Navarro.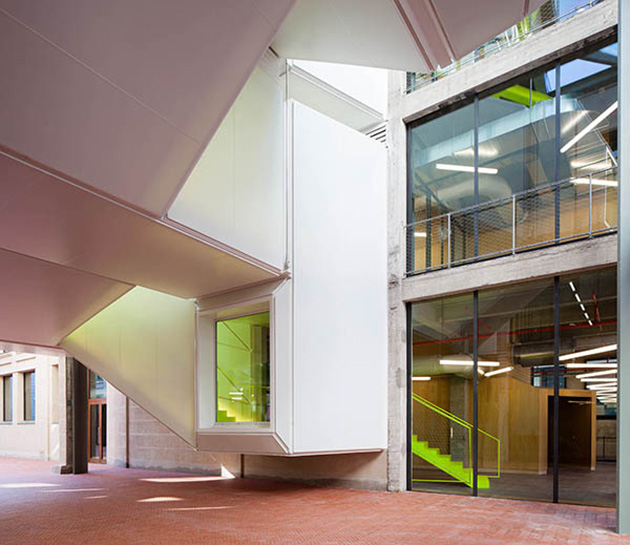 Esta nueva infraestructura cultural, situada en la zona de Atocha en Madrid, se autodefine como un laboratorio ciudadano de las artes. De acuerdo a su propia presentación, se trata de un lugar destinado a albergar investigación, producción y difusión de proyectos culturales a través de estrategias innovadoras, participativas y colaborativas.
Desde su fundación, el Medialab Prado tiene una gran presencia activa en las redes digitales. Muy diversos grupos y personas participan en sus talleres con una fuerte implicación en la expresión colectiva a través de Internet y otros medios de comunicación experimentales. En sus espacios se trata de estimular una fusión entre los espectadores y los creadores, considerando la producción cultural como un proceso permeable e integrador de todos aquellos interesados.
El edificio preexistente, en el que se ha colocado el Medialab Prado, es una construcción de principios del siglo XX en la que se empleó estructura de hormigón y que se ha respetado en gran medida. El proyecto realizado por los arquitectos Víctor Navarro y María Langarita ha respetado los elementos estructurales en su integridad. Ha generado una mayor diafanidad y luminosidad cambiando los cerramientos originales por grandes carpinterías acristaladas. También se han introducido nuevos grafismos y formas que tratan de convivir con lo existente estableciendo un diálogo enriquecedor.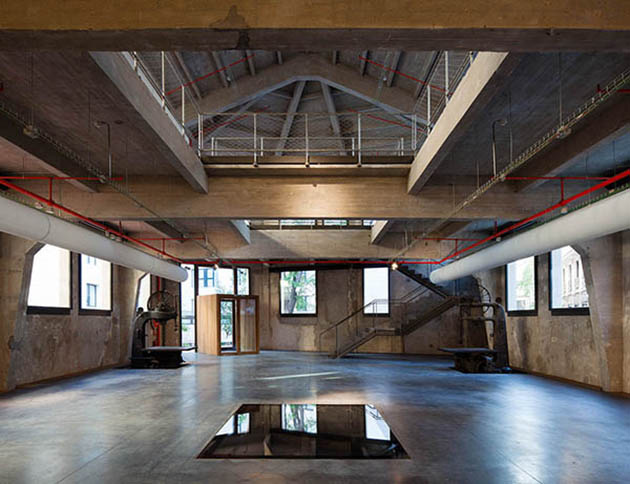 Los espacios de la antigua serrería se han despejado incorporando elementos e instalaciones que facilitan el nuevo uso colectivo, lo que constituye el motivo principal del encargo. Un cuidado y peculiar tratamiento de la iluminación y del color aplicado a los distintos recintos le añade al edificio un toque contemporáneo que, al mismo tiempo se adecua a una estructura heredada recuperándola para su disfrute en nuestros días.
En nuestra opinión, esta rehabilitación de una estructura heredada es una obra cuidadosa que se merece el reconocimiento que ha recibido. Langarita y Prado se consolidan así como unos arquitectos sobresalientes que ya cuentan con algunas otras obras que destacan, realizadas en su ciudad, como es el caso también de la Red Bull Music Academy.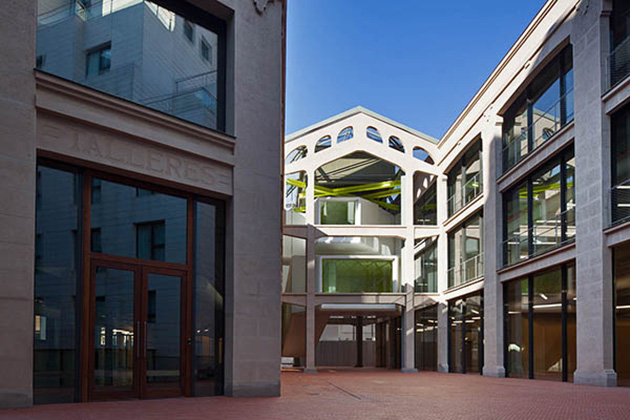 More information:
Reforma de la Serrería Belga para el Medialab Prado. Langarita Navarro Arquitectos
Paisaje arquitectónico posburbuja. Anatxu Zabalbeascoa. El Pais 30/06/2013
Resultados de la XII BEAU. Relación de trabajos seleccionados, finalistas y premiados,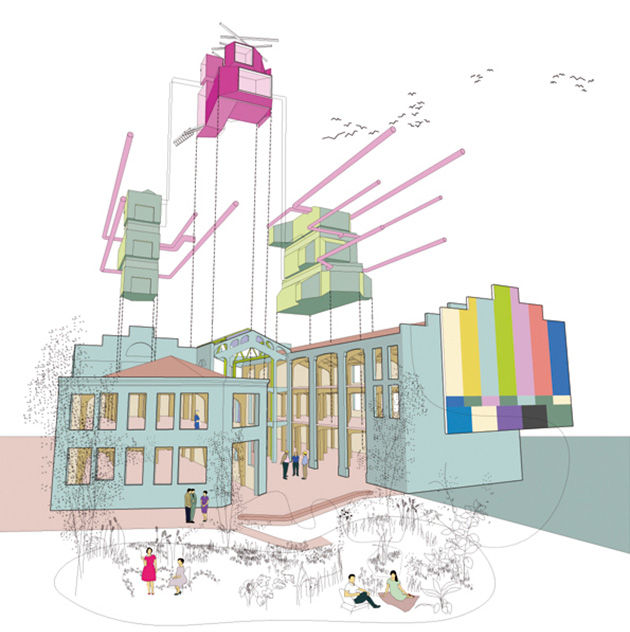 The Belgian sawmill Madrid

,